The resident Man of Mettle from the Super Haters universe has gone
f#$%ing
nuts! In
my new trailer
, you get your first look at the wild Haters artwork Jared Catherine of
Incrediman Comix
and
Comic Book Pitt
:
Mr. Magnifico Unchained a.k.a.
Jared Catherine Guest Week
begins next Monday, March 25th, 2013 in Super Haters #465!
For those of you who follow superhero comic book news, you probably already get the corny "Unchained" concept of the trailer. But for those who don't know, the title is a parody of
this new comic book series
. And if you don't know who Mr. Magnifico is you can learn about him from the
Marvelous Detectives story arc
.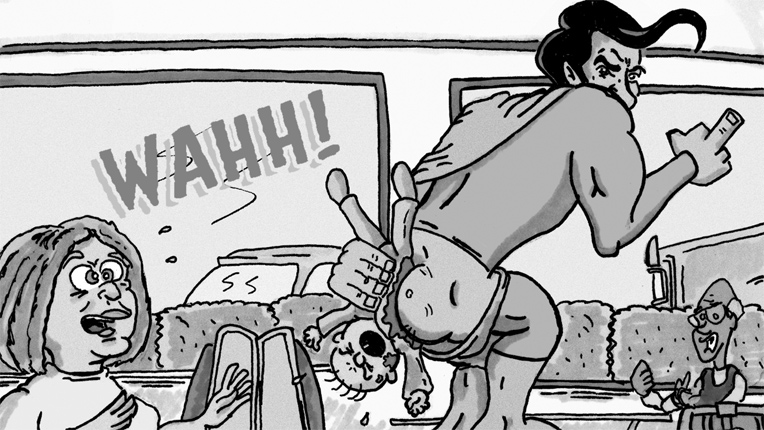 Jared went all out with the art for this story, pushing every panel to its wackiest limit. I think he's channeling an incredible MAD Magazine vibe with his style here, and the feel is enhanced by our decision to go with black and white art instead of color... something Destruct-O-Tron and Mind's Eye have never done for an entire story!
Also, in case you missed it last week, Super Haters was featured in the
latest Amilova webcomics newsletter
. I'm still looking for people to translate Super Haters into other languages on Amilova, so if you're fluent in something other than English... hook it up!! Todd Purvee and Nilufa Nahari need you.