Mind's Eye did her best to
convince Officer Hernandez
to let Destruct-O-Tron go free.
For today's "under the comic" material, I'd like to backtrack to yesterday. Super Haters guest writer
Ross Campbell
(you may remember him as the author
that killed Destruct-O-Tron
) had a new comic book hit the stands:
Glory #23
, a relaunch of Rob Liefeld's warrior woman. It was a great issue, so I recommend that you snag a copy ASAP. But I'm not here to talk about the story -- I'd like to point out an odd inclusion in Ross's interview that graced the back of the book: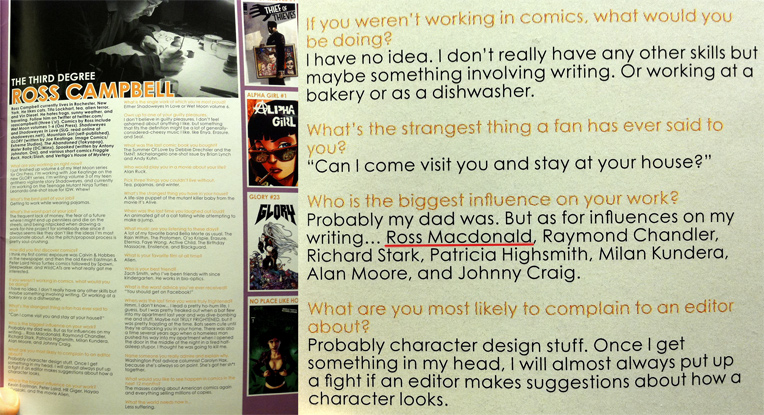 There he is
again
.
*
The elusive Mr. MacDonald. And do you wanna know the weirdest thing about it? That's not even Ross's real answer to the question. If you click on the image above, it'll take you to a larger version of the entire interview... and you can see Ross's real answer a couple of paragraphs later, in the bottom of the left column.
WHO IS ROSS MACDONALD??? The mystery continues...
Anyway, speaking of Ross and Glory, I've got a special surprise (as opposed to an un-special surprise) for you next week. But before then, we need to conclude this
Fast Cash
story arc... Will Destruct-O-Tron finally land the role of Ross MacDonald, hamburger clown? Or were all of his legally questionable shenanigans for naught? FIND OUT TOMORROW!
*And if you don't know what I mean by again, you should check out this bizarre blog comment that launched the entire Ross MacDonald mystery... and, by proxy, inspired the Fast Cash story arc.