I hate to do this, but I have to push back Super Haters #302 until tomorrow! I feel that
Andrew Kilian's fantastic art
deserves a high level of attention, and I'm not willing to half-ass my part of the package. I mean, just take a look at this teaser for tomorrow's comic: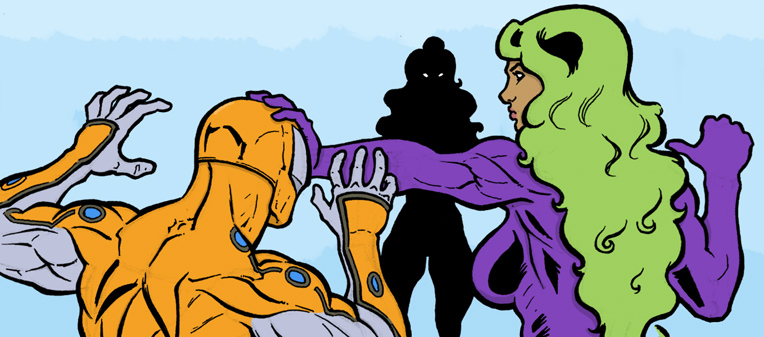 Gorgeous, right? He's done a fantastic job on the art and I want to do it justice with my colors and letters.
Also, I know what you're wondering -- what mysterious threat will Mind's Eye and Destruct-O-Tron face tomorrow??? I won't tell you... but I will promise
HOT CHICK-ON-CHICK ACTION
!!!
Anyway, if you listened to
today's A Podcast with Ross and Nick
, then you know that I'm coming down with something. From behind a haze, I've been slowly cranking away on #302 all day. And I looked up a few minutes ago and realized that it's dark out!
Add that to the fact that I don't have enough lead time on
Andrew
's awesome guest story, and the result is that I'm going to spread out his remaining three comic strips. Here's a revised schedule for the rest of our collaboration:
Thu Nov 24: Super Haters #302
Fri Nov 25: Teaser for #303
Mon Nov 28: Super Haters #303
Tue Nov 29: Teaser for #304
Wed Nov 30: Super Haters #304
Also, I've been keeping a secret from you... my collaboration with Andrew is going to be immediately followed by another one! My friend and fantastic artist
Byron Winton
is both writing and drawing a special over-sized Super Haters Guest Week themed around the concept of identity. Get ready to see the Super Haters characters in some unexpected and dramatic situations.
Since I'm pushing back Andrew's week, I'm also going to add another week to Byron's start time. His fantastic arc will begin on Monday, December 5th and it'll run daily for its duration. To whet your appetite for his fantastic work, I'll be posting two teasers a day here on the blog from December 1-4 (that's next Thu-Sun).
My apologies for messing up the regular schedule. But I know you'll find both the rest of Andrew's guest spot and Byron's guest spot very much worth the wait! See you bright and early tomorrow with Super Haters #302.